UPDATE: We would like to thank everyone, especially those of you who left thoughtful and constructive feedback. We will be closing this post at noon Eastern Daylight Time on Tuesday November 2, but we'd like to invite you to our Community Office Hours this week to help us sort the feedback. And of course, we always invite newcomers to stay and contribute!
[EDIT] This post was part of the Community Office Hours on Thursday, October 21 - and this topic and replies - were all about getting your thoughts on what desktop features matter for you in future releases (especially after 22.04, since this is an LTS and those releases are more conservative), and how we can improve the community and contributor experience starting now. While we want to advocate for the features that are important to you, there will be features we can't implement. At the very least, we want to explain those decisions in a better way.
So what kind of feedback are we looking for? This quote from the blog post sums it up best:
For the Desktop Team, it's about how you use Ubuntu, and how you wish you could use it. What are the common activities we should be polishing, or the new opportunities we should be exploring? We want to hear what frustrates you when you use Ubuntu and what you're most excited about going forward. For the Community Team, we want to know about the contributor experience. What would make it easier to become a new contributor, and to grow and thrive in the community? We want to know what makes contributing difficult, and also what makes it wonderful.
We may also use a Miro board to help us categorize and prioritize your feedback and suggestions, and if we do, we'll update this topic with the link. The Community Team plans to publish the community team road map the first week of November, once the sprint is done.
If you can join us live, office hours will be Thursday, October 21 at 17:30 UTC. You can join us on Twitch or on our YouTube channel: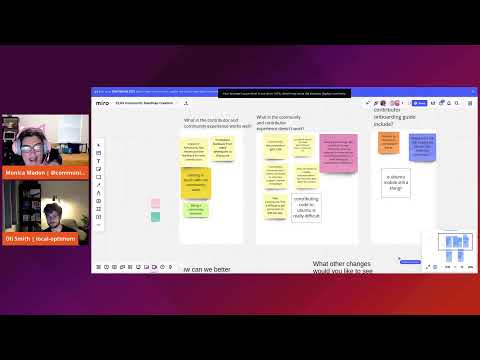 We hope many of you can come to office hours or leave us your comments in this topic!

Miro Boards